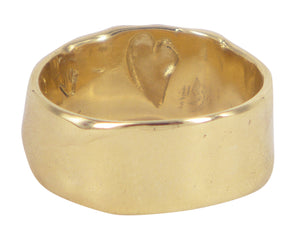 ALI ALEXANDER
San Francisco (outside in)
Regular price
$3,450.00
$0.00
Unit price
per
Tax included.
Shipping
calculated at checkout.
A wide textural 14ct yellow gold wedding ring with a hidden love heart pressed inside the ring.
Material: 14ct Yellow Gold

Size: 10mm W (irregular)

The San Francisco Outside In wedding ring by Ali Alexander is a stunning piece crafted in 14ct yellow gold. With a width of 10mm, the ring showcases an irregular design, making each piece unique and distinct. This handcrafted ring is made to order, ensuring that it is tailored specifically for the wearer.
The manufacturing process of the San Francisco Outside In ring involves wax casting, a technique that allows for intricate detailing and precise craftsmanship. This method ensures that every contour and texture is carefully reproduced, resulting in a beautifully finished piece of jewelry.
An exceptional feature of this wedding ring is the hidden love heart pressed inside. This subtle yet meaningful touch adds a touch of intimacy and symbolism to the ring, representing the deep affection and bond between two individuals.
Lord Coconut, a reputable jewelry retailer, offers the San Francisco Outside In wedding ring as part of their collection. Known for their curated selection of unique and artistic jewelry pieces, Lord Coconut provides a platform for independent artists and designers to showcase their creations. By purchasing this ring from Lord Coconut, you can be assured of its quality and authenticity.
Overall, the San Francisco Outside In wedding ring by Ali Alexander is a remarkable symbol of love and commitment, combining exquisite craftsmanship, personalized design, and a hidden love heart for that extra touch of sentimentality.
A ring size chart is available HERE
All rings can be made in sizes larger than U at extra cost due to the extra material required. All gold rings can be made in white, yellow or rose. Please contact us directly for an individual quote.
Due to the handmade nature of these rings slight variations will occur each time a ring is made to your size.
Note: As all products are made to order by individual Australian based jewellers and designers please expect a 1-3 week delay before they are posted out. We will provide Express Post tracking details as soon as the goods are posted.
---
Share this Product
---