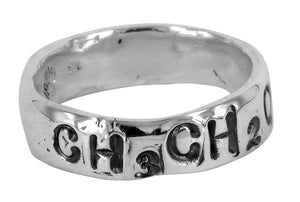 ALI ALEXANDER
Alcohol Chemical Symbol
Regular price
$440.00
$0.00
Unit price
per
Tax included.
Shipping
calculated at checkout.
The ring features the chemical symbol of alcohol.
Material: Sterling Silver
Size: 7mm W (irregular)
The Alcohol Chemical Symbol ring is a stunning piece of jewelry designed by Ali Alexander. Crafted in sterling silver, this unique ring measures 7mm in width, although the shape is irregular, adding to its individuality and charm. Each ring is meticulously handcrafted, ensuring that no two are exactly alike.
The process of creating these rings begins with a wax cast. The wax master is carefully hand shaped with the chemical symbol of alcohol pressed into it using old typewriter keys, giving it a distinctive and meaningful design. This symbol represents the compound found in alcoholic beverages and is a nod to the culture and enjoyment surrounding the world of spirits.
Once the wax master is prepared, it is then used to create a mold for the sterling silver ring. The wax mold is carefully encased in a heat-resistant material, and molten silver is poured into the cavity. As the silver cools and solidifies, it takes on the shape and details of the original wax carving, preserving the intricate chemical symbol of alcohol.
The result is a beautifully crafted ring that showcases the elegance of sterling silver while incorporating a unique and symbolic design element. The irregular shape adds to its organic appeal, making it a standout piece of jewelry.
These Alcohol Chemical Symbol rings are made to order and can be purchased from Lord Coconut, a renowned retailer of contemporary jewelry and accessories in Melbourne, Australia. Each ring is handcrafted with care, ensuring that the wearer receives a one-of-a-kind piece that embodies the spirit of craftsmanship and creativity.
A ring size chart is available HERE
All rings can be made in sizes larger than Z at extra cost due to the extra material required. Please contact us directly for an individual quote.
Due to the handmade nature of these rings slight variations will occur each time a ring is made to your size.
Note: As all products are made to order by individual Australian based jewellers and designers please expect a 1-3 week delay before they are posted out. We will provide Express Post tracking details as soon as the goods are posted.
---
Share this Product
---