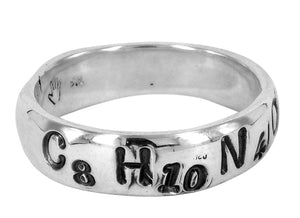 ALI ALEXANDER
Coffee Chemical Symbol
Regular price
$440.00
$0.00
Unit price
per
Tax included.
Shipping
calculated at checkout.
The ring features the chemical symbol of coffee.
Material: Sterling Silver
Size: 7mm W (irregular)
The  Coffee Chemical Symbol ring in sterling silver, designed by Ali Alexander, is a remarkable piece of jewelry that combines craftsmanship and chemistry. The ring, measuring 7mm in width with an irregular shape, is meticulously handcrafted, ensuring that each piece is unique and distinct.
The process begins with wax casting, where the ring is carefully formed using molten wax. This technique allows for intricate details to be captured with precision. The central feature of the ring is the chemical symbol of coffee, creatively hand-pressed into the wax master. The symbol represents the molecular composition of caffeine, the beloved stimulant found in coffee beans.
Crafted from sterling silver, this ring offers both elegance and durability. The use of this precious metal ensures that the ring will withstand the test of time, maintaining its beauty and charm for years to come. The silver also provides a sleek backdrop for the intricate coffee chemical symbol, enhancing its visibility and making it a focal point of the design.
The Coffee Chemical Symbol ring is made to order, allowing for customization to fit the wearer's specifications. This bespoke approach ensures a perfect fit and a personalized touch. The ring is available at Lord Coconut, a renowned jewelry store that showcases unique and contemporary designs.
Whether you are a coffee aficionado, a chemistry enthusiast, or simply appreciate the combination of art and science, the Coffee Chemical Symbol ring is a captivating accessory that showcases the beauty of both coffee and jewelry. Its intricate design, handcrafted nature, and personalized touch make it a truly special and meaningful piece.
A ring size chart is available HERE
All rings can be made in sizes larger than Z at extra cost due to the extra material required. Please contact us directly for an individual quote.
Due to the handmade nature of these rings slight variations will occur each time a ring is made to your size.
Note: As all products are made to order by individual Australian based jewellers and designers please expect a 1-3 week delay before they are posted out. We will provide Express Post tracking details as soon as the goods are posted.
---
Share this Product
---