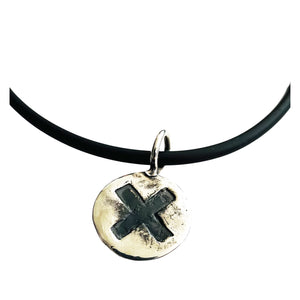 ALI ALEXANDER
Covid Crosses
Regular price
$195.00
$0.00
Unit price
per
Tax included.
Shipping
calculated at checkout.
Based on the crosses 1.5 meters apart on the pavement outside many cafes in Melbourne. I created them from a photo of the crosses outside Pope Joan.
Material: Sterling silver with oxidised detail
Size: 20mm D
The Covid Crosses pendant in sterling silver by Ali Alexander is a remarkable piece of wearable art that encapsulates the collective experience of the Covid-19 pandemic. Handmade with meticulous attention to detail, this pendant is a symbolic representation of the crosses seen outside numerous cafes in Melbourne during the lockdown period. These crosses were a poignant reminder of the necessary physical distancing measures that were implemented to combat the spread of the virus.
Ali Alexander, a skilled artisan, crafted this pendant using the wax casting technique. This process allows for intricate designs to be translated into durable and elegant sterling silver. The result is a pendant that captures the essence of the original crosses with remarkable precision and beauty.
Each pendant is a unique piece, carefully crafted to preserve the essence of the original crosses found outside Pope Joan. The pendant features crosses placed 1.5 meters apart, symbolizing the recommended safe distance between individuals to prevent viral transmission. This design serves as a powerful reminder of the challenges faced during the pandemic and the resilience of communities coming together to overcome adversity.
The Covid Crosses pendant is available at Lord Coconut, a renowned purveyor of contemporary jewelry and accessories. By wearing this pendant, one not only adorns themselves with a visually striking piece but also carries a profound symbol of unity, perseverance, and the shared experience of navigating the pandemic.
As society gradually emerges from the shadow of the pandemic, the Covid Crosses pendant serves as a tangible connection to a transformative period in history. It represents the collective strength and determination that allowed communities to weather the storm and find hope in the face of adversity. This pendant stands as a testament to the power of art and craftsmanship to convey powerful messages and preserve significant moments in time.
Note: As all products are made to order by individual Australian based jewellers and designers please expect a 1-3 week delay before they are posted out. We will provide Express Post tracking details as soon as the goods are posted.
---
Share this Product
---