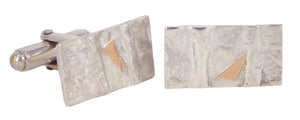 GAVIN MACSPORRAN
Crucible
Regular price
$310.00
$0.00
Unit price
per
Tax included.
Shipping
calculated at checkout.
Contrasting different metals in the one set of cufflinks makes each of these handcrafted cufflinks unique in every way.
Due to the handmade nature of these cufflinks variations will occur each time a set is made.
Material:
Sterling silver and 18ct gold
Size: 20mm W x11mm H
Introducing the exquisite Crucible, a remarkable piece of jewelry handcrafted by renowned jeweler Gavin Macsporran. This captivating men's ring, available exclusively at Lord Coconut, is meticulously crafted using the finest materials of sterling silver and 18ct gold. With its stunning design, the Crucible showcases the inherent beauty and texture of these precious metals.
Designed for the modern, dapper gentleman, the Crucible adds a touch of sophistication and elegance to any outfit, particularly when paired with a sleek suit. Its intricate details and contrasting metals make each ring a unique work of art, ensuring that no two pieces are alike. Crafted with exceptional attention to detail, the Crucible embodies the perfect blend of craftsmanship and style.
Gavin Macsporran's expertise in jewelry making shines through in the Crucible. The combination of sterling silver and 18ct gold creates a visually striking contrast, enhancing the overall aesthetic appeal of the ring. The play of light on the textured surface of the metal adds depth and character to this exceptional piece.
Whether you're a business professional attending important meetings or a fashion-conscious man looking to make a statement, the Crucible is the ideal accessory. It elevates your appearance, exuding confidence and refined taste. This handcrafted masterpiece is a testament to Gavin Macsporran's skill as a jeweler, ensuring that you will be wearing a unique and exceptional piece of art.
Visit Lord Coconut today to discover the mesmerizing Crucible and experience the allure of this meticulously crafted men's ring. Embrace the artistry of the Crucible, and let it become a symbol of your individuality and impeccable style.
Note: As all products are made to order by individual Australian based jewellers and designers please expect a 1-3 week delay before they are posted out. We will provide Express Post tracking details as soon as the goods are posted.
---
Share this Product
---