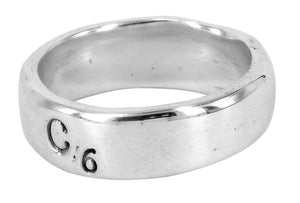 ALI ALEXANDER
Diamond
Regular price
$440.00
$0.00
Unit price
per
Tax included.
Shipping
calculated at checkout.
When you don't want the real thing.

Material: Sterling Silver
Size: 8mm W (irregular)
The Diamond ring in sterling silver by Ali Alexander is a stunning piece of jewelry that combines elegance and uniqueness. Crafted with care and precision, each ring is handcrafted, making it a one-of-a-kind piece. The irregular 8mm width adds a touch of contemporary flair to the design, setting it apart from traditional diamond rings.
The ring is made using the wax casting technique, which allows for intricate detailing and customization. This process involves creating a wax mold of the desired design and then casting it in sterling silver, resulting in a durable and high-quality piece of jewelry. The use of sterling silver ensures that the ring is not only visually appealing but also resistant to tarnish, making it a timeless accessory.
One of the distinctive features of this Diamond ring is the inclusion of the chemical symbol C6, representing the molecular formula of diamonds. This unique element adds a subtle nod to the extraordinary nature of diamonds and serves as a reminder of their exceptional beauty and rarity.
This particular diamond ring can be ordered through Lord Coconut, a reputable retailer known for its collection of contemporary jewelry and accessories for men. The made-to-order option allows customers to customize the ring to their preferences, ensuring a perfect fit and personalized touch.
Overall, the diamond ring in sterling silver by Ali Alexander is a remarkable piece of jewelry that combines the allure of diamonds with the craftsmanship of handcrafted silver. Its irregular width, wax cast construction, and inclusion of the chemical symbol C6 make it an extraordinary and meaningful choice for those seeking a unique and stylish ring.
A ring size chart is available HERE
All rings can be made in sizes larger than Z at extra cost due to the extra material required. Please contact us directly for an individual quote.
Due to the handmade nature of these rings slight variations will occur each time a ring is made to your size.
Note: As all products are made to order by individual Australian based jewellers and designers please expect a 1-3 week delay before they are posted out. We will provide Express Post tracking details as soon as the goods are posted.
---
Share this Product
---