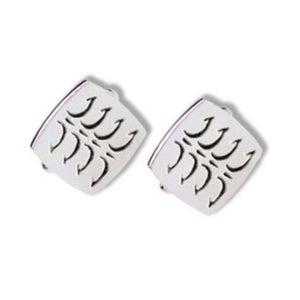 BUSHPRINTS
Green Turtle
Regular price
$253.00
$0.00
Unit price
per
Tax included.
Shipping
calculated at checkout.
Bushprints Jewellery is based on the footprints of wildlife (Green Turles cufflinks in this case), and are created to provide travellers and animal lovers with a unique and wearable memento of a wildlife experience.
Material: Sterling silver and enamel
Size: 16mm x 16mm
The Green Turtle cufflinks in polished sterling silver by Bushprints Jewellery, available at Lord Coconut, are exquisite accessories that capture the essence of wildlife. Handmade with meticulous attention to detail, these cufflinks are more than just adornments; they carry the spirit of the Green Turtle.
Bushprints Jewellery, known for their nature-inspired designs, has crafted these cufflinks based on the footprints of the majestic Green Turtle. The brand's dedication to preserving and honoring wildlife shines through in this piece. Each cufflink is a wearable memento, perfect for travelers and animal lovers alike.
Made from high-quality sterling silver, these cufflinks exhibit a polished finish, adding a touch of elegance to any ensemble. With their unique design and meaningful symbolism, the Green Turtle cufflinks from Bushprints Jewellery become more than mere accessories – they become a conversation starter and a testament to one's love for wildlife.
Note: As all products are made to order by individual Australian based jewellers and designers please expect a 1-3 week delay before they are posted out. We will provide Express Post tracking details as soon as the goods are posted.
---
Share this Product
---