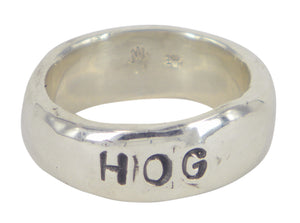 ALI ALEXANDER
Hog
Regular price
$440.00
$0.00
Unit price
per
Tax included.
Shipping
calculated at checkout.
High on the hog, you're a hog or do you ride a hog?

Material: Sterling Silver
Size: 8mm W (irregular)
The HOG ring in sterling silver by Ali Alexander is a stunning piece of handcrafted jewelry that showcases both creativity and individuality. The ring is irregularly shaped, measuring approximately 8mm in width, and each piece is meticulously crafted, making it unique. It is available for purchase at Lord Coconut and can be made to order according to your preferences.
The distinctive feature of the HOG ring is the word "HOG" engraved on it. Before being cast in sterling silver, the ring is first created in wax, allowing for intricate details and customization. The word "HOG" is hand-pressed into the wax master using old typewriter keys, adding a touch of vintage charm and nostalgia to the design. This process ensures that each ring possesses its own distinct character and personality.
The word "HOG" carries different connotations and meanings, offering a versatile interpretation to the wearer. "High on the hog" is an idiomatic expression that refers to a state of prosperity or living in luxury. It implies enjoying the finer things in life. The phrase "you're a hog" can be seen as a playful reference to someone who indulges in excess or is fiercely determined. Additionally, "hog" can also refer to a motorcycle, specifically a Harley-Davidson, known colloquially as a "hog." Thus, the ring sparks curiosity and conversation, inviting interpretations and personal connections.
Whether you appreciate the symbolic meaning, resonate with the vintage aesthetic, or simply love the craftsmanship of this unique piece, the HOG ring in sterling silver by Ali Alexander is sure to make a bold statement and add a touch of individuality to your style.
A ring size chart is available HERE
All rings can be made in sizes larger than Z at extra cost due to the extra material required. Please contact us directly for an individual quote.
Due to the handmade nature of these rings slight variations will occur each time a ring is made to your size.
Note: As all products are made to order by individual Australian based jewellers and designers please expect a 1-3 week delay before they are posted out. We will provide Express Post tracking details as soon as the goods are posted.
---
Share this Product
---