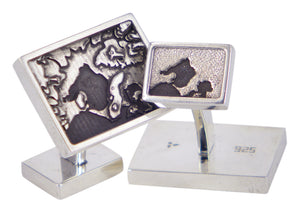 ALBERT TSE
Momento Melbourne
Regular price
$725.00
$0.00
Unit price
per
Tax included.
Shipping
calculated at checkout.
A highly detailed and labour intensive hand made pair of cufflinks
Size: 15mm x 20mm


Material: Sterling silver
The Momento Melbourne Map Sterling Silver Cufflinks by Albert Tse are a remarkable accessory that combines style, craftsmanship, and a touch of Melbourne's charm. These cufflinks are a testament to Tse's talent as a skilled artisan, and they offer a distinctive way to showcase your love for the city.
Crafted from sterling silver, each cufflink is meticulously handcut, resulting in a truly unique piece of art. The design features a map of Melbourne, capturing its intricate details of our topography and shape of the bay. The attention to detail is exceptional, with every layer of silver precisely shaped to represent the city's layout.
What sets the Momento Melbourne Map Cufflinks apart is their exclusivity. Due to the handmade nature of the process, no two cufflinks are exactly alike. Each pair carries its own distinct character and represents a connection to the city that is truly personal.
These cufflinks are available at Lord Coconut, a renowned boutique in Melbourne that showcases contemporary jewellery and accessories for men. Lord Coconut's commitment to promoting local artisans makes it the perfect destination for finding unique and stylish pieces like the Momento Melbourne Map Cufflinks.
Wearing these cufflinks is a subtle yet meaningful way to express your love for Melbourne, whether you're a resident, a frequent visitor, or simply captivated by the city's allure. They make for a sophisticated accessory that sparks conversations and stands out as a reflection of your individuality.
The Momento Melbourne Map Sterling Silver Cufflinks by Albert Tse are more than just an accessory—they are wearable art that celebrates the beauty and spirit of Melbourne in a truly exceptional way.
Note: As all products are made to order by individual Australian based jewellers and designers please expect a 1-3 week delay before they are posted out. We will provide Express Post tracking details as soon as the goods are posted.
---
Share this Product
---