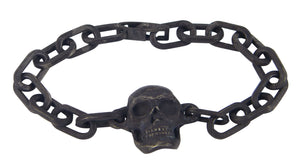 ANT HAT
Skull
Regular price
$280.00
$0.00
Unit price
per
Tax included.
Shipping
calculated at checkout.
Handmade chain with skull highlight.

Material: Oxidised sterling silver

Size: Skull: 15mm x 20mm // Chain: 18cm

The Skull bracelet in oxidized sterling silver by Ant Hat, available at Lord Coconut, is a captivating piece of handcrafted jewelry that embodies elements of the emo, gothic, and dark arts aesthetics. With its meticulous craftsmanship and attention to detail, this bracelet is a stunning representation of alternative style.
The bracelet features an oxidized sterling silver chain, expertly handmade to ensure durability and visual appeal. The highlight of the design is a meticulously crafted skull charm, adding a bold and edgy touch to the overall piece. The oxidized finish lends a weathered and aged appearance, further enhancing its gothic allure.
Perfect for those who embrace the darker side of fashion, this Skull bracelet exudes a sense of mystique and rebellion. It serves as a statement piece, allowing the wearer to express their individuality and affinity for unconventional style. Whether paired with casual attire or used to complement a more elaborate ensemble, this handmade bracelet is sure to draw attention and evoke a sense of intrigue.
From its striking design to its handcrafted charm, the Skull bracelet in oxidized sterling silver is a must-have accessory for those seeking to embrace the allure of the dark arts.
Note: As all products are made to order by individual Australian based jewellers and designers please expect a 1-3 week delay before they are posted out. We will provide Express Post tracking details as soon as the goods are posted.
---
Share this Product
---