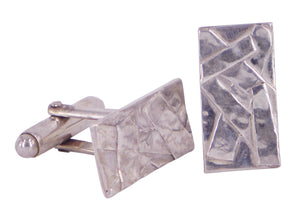 GAVIN MACSPORRAN
Urban Layer
Regular price
$265.00
$0.00
Unit price
per
Tax included.
Shipping
calculated at checkout.
The contrasting layers of metal in each cufflink means that no two cufflinks will be exactly alike. This make these unique cufflinks one of a kind!
Materials:
Sterling Silver
Size: 20mm L x 10mm W x 1.5mm D
Introducing the Urban Layer cufflinks, exquisite pieces of handcrafted artistry designed by renowned jeweler Gavin Macsporran. Made from luxurious Sterling silver, these men's cufflinks are the epitome of dapper sophistication for the modern business man. Available exclusively at Lord Coconut, these unique cufflinks are a must-have addition to any gentleman's wardrobe.
Crafted with meticulous attention to detail, the Urban Layer cufflinks boast a mesmerizing design that sets them apart. The contrasting layers of metal in each cufflink ensure that no two pieces are exactly alike, making them truly one of a kind. This distinctive feature adds a touch of individuality and exclusivity to the cufflinks, guaranteeing a standout accessory that complements any suit.
The sterling silver construction of these cufflinks exudes elegance and refinement. The lustrous shine of the metal enhances the overall allure, making them a perfect choice for formal occasions, business meetings, or special events. These cufflinks effortlessly elevate any outfit, lending a touch of sophistication and class to the discerning gentleman's ensemble.
The Urban Layer cufflinks are a testament to Gavin Macsporran's exceptional craftsmanship and artistry. Each cufflink is meticulously handcrafted, showcasing the jeweler's dedication to creating remarkable pieces. The attention to detail is evident in every facet, from the intricate design to the flawless finish, ensuring a premium quality accessory that stands the test of time.
With their unique design and impeccable craftsmanship, the Urban Layer cufflinks make a thoughtful and stylish gift for any man who appreciates fine accessories. Whether for a birthday, anniversary, or as a token of appreciation, these cufflinks are a symbol of sophistication and discerning taste.
Invest in the Urban Layer cufflinks to elevate your style and make a lasting impression. Embrace the allure of these exquisite cufflinks, and let them become your signature accessory, adding a touch of refinement to your wardrobe and enhancing your confidence as a modern, dapper businessman. Experience the exclusivity and elegance of the Urban Layer cufflinks, a true masterpiece in the world of men's fashion.
Note: As all products are made to order by individual Australian based jewellers and designers please expect a 1-3 week delay before they are posted out. We will provide Express Post tracking details as soon as the goods are posted.
---
Share this Product
---